News
Danish art exhibition reported to police for "encouraging terror"
---
This article is more than 7 years old.
Installation includes the back-stories of some of the Paris and Brussels bombers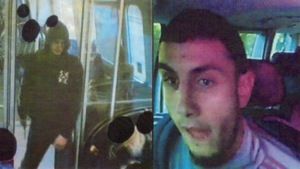 An art exhibition slated to open this month in Copenhagen has been reported to police for encouraging terrorism. The show features two of the Brussels suicide bombers and one of the terrorists that attacked the Paris music venue Bataclan on November 14 last year.
A group of Danish artists plan to include images of the terrorists, replicas of their belongings, and plaques explaining who they were and what they did.
The terrorists will be featured alongside historical figures considered martyrs like Joan of Arc and Greek philosopher Socrates, said organiser Ida Grarup Nielsen.
"Our exhibition is really about describing the term 'martyr' from as many different angles as possible and through history," Nielsen told Politiken.
Nielsen said the story would be told more from the suicide bombers' "point of view".
No strangers to controversy
The exhibition is scheduled to go on display from May 26 until June 10 at Teateret Sort/Hvid in Kødbyen, home to a theatre group whose artistic leader, Christian Lollike, created controversy in 2012 by staging a play based on the manifesto of Norwegian mass murderer Anders Behring Breivik.
Danish gunman Omar El-Hussein, who killed two people during attacks in Copenhagen in February 2015, will not be part of the exhibition since it remains unclear whether he was willing to die for his beliefs, noted Nielsen.
The last step
Diego Gugliotta, a local member of Venstre in Copenhagen, reported the event and its organisers to police yesterday for "encouraging terror".
Gugliotta said on his Facebook page that portraying terrorists as heroes could incite people to "take the final step and join a terrorist organisation".