News
Denmark misses out on Eurovision final again
---
This article is more than 7 years old.
Semis turn into Nordic nightmare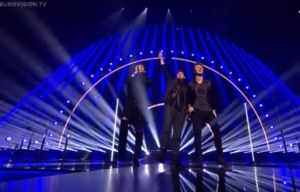 For the second year in a row, Denmark has failed to progress from the semi-finals of the Eurovision Song Contest.
The Danish fate was sealed after the jury decided that Lighthouse X's ropey performance of 'Soldiers of Love' did not have the pedigree to compete in the final in Stockholm.
"When we had heard the first five winners, we began losing faith," Lighthouse X member Martin Skriver, told Ekstra Bladet tabloid.
"What we brought to the table was perhaps just not what they were looking for."
READ MORE: Eurovision no contest: From laughing stock to top of the pops
Nordic woe
The Danish disappointment comes in the wake of last year's failure in Vienna, which saw the band Anti Social Media also falter in the semis.
In fact, the semi-finals turned into a bit of a Nordic nightmare, with Denmark, Norway, Iceland and Finland all bowing out early. Only the hosts Sweden will be in the final.
In total, 26 countries will be battling it out in the grand final on Saturday at 21:00.