News
Dane to direct film about legendary Wimbledon final
---
This article is more than 7 years old.
Janus Metz signs on along with Shia LaBeouf and Stellan Skarsgård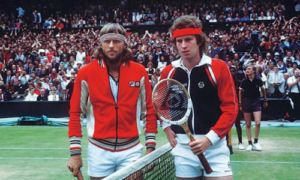 Danish director Janus Metz has been picked to take the helm of 'Borg vs McEnroe', a film about the famous Wimbledon final in 1980 that featured a gruelling five-set masterpiece between legends Bjørn Borg and John McEnroe.
Metz – who rose to fame in 2010 with 'Armadillo', a documentary following a group of Danish soldiers in Afghanistan, and recently directed an episode of 'True Detective' – will direct Shia LaBeouf (McEnroe) and Swedish actor Sverrir Gudnason (Borg).
Furthermore, the seasoned Swedish actor Stellan Skarsgård has signed on to play Lennart Bergelin, Borg's coach at the time.
READ MORE: Docs to pics: the Danish directors on an unusual path to the big screen
More than a game
The film is scheduled to hit the silver screen sometime in 2017 and will be shot on location in Sweden, London, Monaco and New York.
The match is considered one of the best tennis matches in history, not just because of how it proceeded – McEnroe survived five match points in a 20-minute tie-break in the fourth set that he won 18-16, before finally succumbing 6-8 in the fifth set – but also because the two players had such completely different personalities on and off court.
The iconic and introverted Swede won Wimbledon five years in a row from 1976-1980 before the temperamental and controversial McEnroe won in 1981 and again in 1983 and 1984.