News
Business News in Brief: Sweden eyeing Danish construction companies
---
This article is more than 7 years old.
In other news, Bavarian Nordic, FLSmidth land deals while Danish investors eye Jordan and the US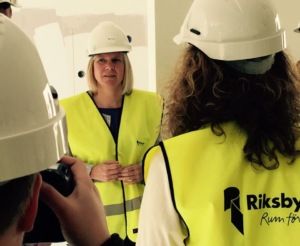 Swedish finance minister wants to attract Danish construction companies
Magdalena Andersson, Sweden's finance minister, visited Copenhagen to meet with three Danish construction companies, which she hopes entice to work in her country. Incoming refugees have forced the Swedish government to raise its previous target of 250,000 new homes by the year 2020 to at least 700,000 new homes by the year 2025. Andersson met with MT Højgaard, Scandi Byg and Enemærke & Petersen in Denmark and said she would also try to lure construction companies from Norway and Germany.
Bavarian Nordic inks deal with US government
Bavarian Nordic has today announced that a division of the US Department of Health and Human Services (USD), has ordered a bulk supply of its smallpox vaccine Imvamune, totalling about 660 million kroner. This new bulk order will be produced and the revenue realised in 2017. The deal follows a 2015 order which brings the the total US investment in Imvamune to over one billion kroner to date. The vaccine will be delivered in freeze-dried doses.
FLSmidth lands Russian port deal
FLSmidth, a leading supplier of equipment and services to the global cement and minerals industries, has signed a contract with the Russian marine export terminal owner OTEKO-Portservice LLC for the engineering, supply and supervision of material handling equipment. The equipment is to be installed at the port of Taman on the Russian Black Sea coast, approximately 1,500 km south of the capital Moscow. The order is part of the construction of a new cargo terminal to handle the increasing export of coal, iron ore, sulphur and fertilisers from production sites in Russia.
Danish delegation heads to Jordan
A Danish business delegation, along with representatives from universities and NGOs, will visit Jordan to learn about opportunities in that market, with particular focus on the huge refugee community. The participating companies represent sectors including healthcar, IT, shelter and utility management. The group includes small and medium-sized companies as well as larger companies including Grundfos, Vestas, Buk-Auto and Rockwool. The Danish companies will offer solutions within areas such as water, energy, sanitation, logistics and housing that can create value in refugee camps and enhance commercial ties between Jordan and Denmark.
US looking to woo Danish investments
The US hopes to attract Danish companies to the SelectUSA Investment Summit, a conference coming up in June that is run by the US Ministry of Enterprise.
"Denmark is high on our priority list, especially this year where innovation is the theme," said the US Deputy Secretary of State, Charles H. Rivkin. "Danish companies have a lot of knowledge to offer." The Danish company Rambøll took part in last year's conference, and its spokesperson said that the meeting was a chance for Nordic companies to examine the American market and investment mindset up close.