General
Restaurant Review: KUL face as welcome a sight as a hipster cull
---
This article is more than 7 years old.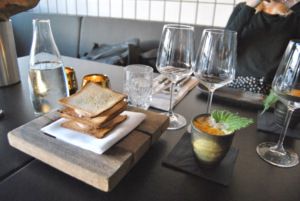 I'd heard whispers about Kødbyen's decadent newcomer KUL long before I finally got round to paying it a visit. With a focus on modest prices and exceptional taste, it boasts an intriguing, but initially confusing menu – an eccentric southern Californian/Asian/Danish fusion prepared over an open flame.
New Nordic no-zone
As a Vesterbronxer myself, I will be the first to admit that I have a bit of a love-hate relationship with Kødbyen, Copenhagen's meatpacking district. It's home turf for hipsters, and it vaunts an air of cool that I often find has an unwelcome waft of superiority to it. Luckily, KUL manages to avoid any of this pretentious novelty. Instead, it stands alone – quirky, innovative and intensely modern, both in menu and interior.
With its roots firmly planted in the heart of San Francisco, head chef and founder Henrik Jyrk is more than familiar with the standards of a Michelin star kitchen. In stark contrast to its counterparts, Jyrk made sure to steer clear of the New Nordic concept that saturates much of the city's gastronomic landscape right now.
Surfers' paradise
KUL (which translates as coal) is a paradise for those in search of the good ol' surf and turf – only with a little more style and pizzazz. A large part of our eight-odd courses were composed of a hefty slab of meat or a fresh portion of fish. The portion sizes were fair – a refreshing change from the white-plate meals that gourmet restaurants seem to serve these days.
The international flavour-fusion was present right from our first course, in which we eagerly tucked into a lumpfish roe with spicy buttermilk and poppadoms. An interesting combination, and one that felt a little awkward at first (there are very few occasions where I've used a poppadom to scoop up baby fish eggs), but it was delicious nonetheless.
The star of the show – and a seasonal favourite – was the white asparagus, served with truffle shavings and a hefty ration of parmesan. However, my favoured dish was the Jamón Ibérico with squid tempura and black aioli. Presented to us on an elegant black tile, the flavour was unexpectedly exquisite.
The restaurant itself is housed in an old wholesale butcher, and they have done their best to ensure that traces of its former origins remain. The walls are lined with the original tiles, and the interior is a muted palette of matte black and dark stone. With the mid-April sun seeping through the windows, it felt relaxed and uncomplicated. The open kitchen adds to the unperturbed vibes – all chefs managed to keep their cool during our sitting.
Tickilicious
For dessert, we inhaled the trifecta, or what our waitress liked to call 'the circus of desserts' – a sizeable portion of every dessert they offer on their menu. I'm a sucker for all things chocolate so perhaps I'm a little biased in my judgement, but the vanilla soft ice with popcorn, chocolate and Oreo was nothing less than dribble-inducing. Although, the yuzu ice cream with smoked caramel also comes highly recommended.
The service was relaxed yet nigorous. Our waitress was quick and competent in her recommendations and her knowledge of the menu. The wine list, an intriguing mix of international wines, complemented our menu flawlessly. Tick, tick, tick!
It was what those supercilious food aficionados would refer to as 'a journey'. We used our hands to scoop up caviar and eat glorified toast, switched to chopsticks for our delicate slices of pear-garnished salmon and then ended our meal as mere mortals with the good ol' knife and fork … sigh.
Kul champions its gritty roots, steering clear of the hipster doctrine to create its own standards of cool.