News
Poland's under-fire president coming to Denmark
---
This article is more than 7 years old.
Andrzej Duda is getting heat from the EU ahead of Copenhagen jaunt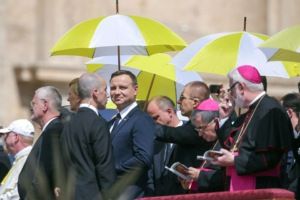 Ahead of the upcoming NATO summit in Warsaw in July, Polish President Andrzey Duda will pay an official visit to Copenhagen this week on June 9.
Duda will meet with the prime minister, Lars Løkke Rasmussen, and discuss a number of issues within the spectrum of security, energy, trade and the ongoing conflict in Ukraine, one of Poland's neighbours.
The Polish government has been under pressure from the EU since it passed a number of laws that have limited certain freedoms in the nation.
READ MORE: Denmark inks new co-op agreement with Poland
EU concerns
Over the weekend some 50,000 Poles demonstrated against the conservative government, which has paralysed the nation's Constitutional Tribunal and tightened its grip on the judicial system.
"The rule of law is one of the foundations of the European Union," said Frans Timmermans, the first vice-president of the European Commission.
"There have been constructive talks that should now be translated into concrete steps to resolve the systemic risk to the rule of law in Poland. The opinion adopted today presents our assessment of the issues at stake, building on the dialogue that started in January. On this basis we stand ready to continue the dialogue with the Polish authorities. "