News
Residents deserting tiny community on remote Danish island of Christiansø
---
This article is more than 7 years old.
Administrator says it is just normal attrition, but residents say there is trouble in paradise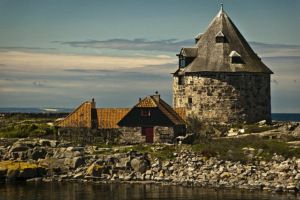 Six adults and five children are reportedly leaving the island of Christiansø, Denmark's easternmost point.
Christiansø is the largest island of Ertholmene, a tiny archipelago located about 20 km north of Svaneke on Bornholm. The archipelago are an unincorporated area that does not belong to either a municipality or a region. The islands are state property governed by an administrator appointed by the Ministry of Defence.
Unhappy islanders
An email sent to TV2/Bornholm said that many residents are considering leaving Christiansø due to dissatisfaction with the current administrator, Orla Johannsen.
Johannsen said there are residents moving away, but it's due to natural attrition and people taking new jobs, and not any dissatisfaction with his leadership.
"These are just ordinary resignations from positions that are frequently changing, as well as someone retiring and a contract expiration," said Johannsen.
Johannsen said that one couple and their children are leaving after seven years on the island, another couple have reached retirement age, and another couple's contract has expired.
The departure of the 11 residents will drop the population of the island from 94 to 83.
Talks stalled
Residents of Christiansø have expressed dissatisfaction with the current administration for more than two years.
Efforts to resolve the conflict between the two parties should have started in March, but residents refused to take part in kontaktrådet, the contact council.
"We do not think that residents are involved enough in the new administration," said Marie Magni, the deputy chairman of the Christiansø residents' association. "We have our own island council that we should preserve with."
Small and remote
Magni said that distrust arose among residents because Johannsen has not shown any interest in them or the island council.
Christiansø's major sources of income are fishery and tourism. It can only be reached by boat. Only about 100 people live there at any given time.