Things to do
Enchanté Concerto CPH: A birthday to remember with Handel, Telemann and Vivaldi
---
This article is more than 7 years old.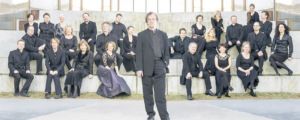 Still ripe and presumably a little shell-shocked from playing on a beer-soaked stage in Vesterbro at Distortion, Concerto Copenhagen (their friends call them Coco) have now set their sights on another of the City's pleasure playgrounds: Tivoli.
The innovative baroque orchestra – led by internationally renowned harpsichordist Lars Ulrik Mortensen, the winner of the prestigious Léonie Sonning Music Prize – are celebrating their 25th anniversary with three concerts at Tivolis Koncertsal and one at Garnisons Kirken.
The celebrations begin on Friday with a reinvigoration of Concerto Copenhagen's very first public performance back in 1991, which featured Handel's 'Water Music' and Telemann's 'Hamburg ebb and flood'.
In the 25 years since their maiden performance, the ensemble have flourished both locally in the Scandinavian early music scene whilst simultaneously growing in international prowess; their innovative ensemble and ability to communicate music in a current way helps ensure that historic music remains ever relevant to a contemporary audience.
Guest conductors for the concerts include the oboist Alfredo Bernardini and Paul Høxbro, "the great man of small instruments", as well as a world premiere of 'The Four Seasons' by Karl Aage Rasmussen, Coco's resident composer.
Tickets are just 50 kr per performance, so come one, come all!