General
Vino at the Chateau: From the heel of Italy, take heed of the country's finest wine
---
This article is more than 7 years old.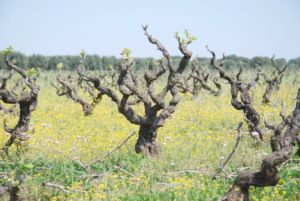 Buying wines is always a gamble – especially when you've purchased large quantities of one that has no accolades or ratings yet!
However, there is no sweeter pleasure than finding out the wine you purchased at a whim has been declared Italy's best. And Lu'Li has been declared just that, garnering stellar reviews both at home and abroad.
Front and centre
Masca del Tacco Erchie, which sits on 50 hectares of vineyards in Puglia in the heel of Italy, is devoted to a philosophy that places values and innovation – and of course great wine – front and centre.
Made using the Appassimento Method, Lu'Li's grapes (generally of the Italian Zinfandel and Negro Amaro variety) are allowed to over-ripen to intensify their flavour. The dry winds in the region further contribute to their intensity by causing them to shrivel up. The grapes are then processed and allowed to age for six months in oak barrels.
The resulting wine, which can be stored till 2020, is velvety and rich, with a heady bouquet containing hints of red berries, prunes and a touch of spices – a perfect match for those summer steaks hot off the grill.
Late harvest, drier grapes
Of late, there has been a rapid increase in wines from Italy that are made using late-harvested, drier grapes. This treatment of the acid-rich grapes leads to the production of soft, rich wines – the chemistry is a joy to behold.
As one reviewer wrote: "Its extractive richness makes this wine majestic from the outset. Then comes the density and mightiness of its expressive palatal volume – pure blackberry cream glazed in balsamic and extra fine spices.
"Compact and porous as it is, its tannins weave and strengthen its texture, leading to a fruit-driven smoothness that harmonises its taste perfectly. The amazing vito-oenological executive technique is what this wine exemplifies, as its infinite integrity spreads out covered in an incredibly thick and mellow livery. A wine that everybody will enjoy. This year's best red wine: chapeau."
Price: Six bottles for 399 kroner (a saving of 320 kroner) when you order from nemlig.dk