News
CPH Post readers at Euro 2016: Three times a maybe
---
This article is more than 7 years old.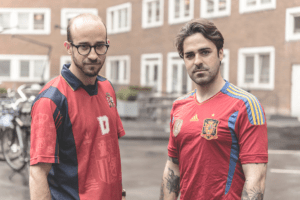 Raul Lain (right) arrived in Denmark last year with his Danish girlfriend, who he has since married. In other words, life is bliss for the Spaniard, and given his country's recent track record, why wouldn't he be confident?
Behind a strong core of players like Andres Iniesta, Sergio Ramos and Iker Casillas, La Furia Roja has been untouchable at the Euros of late, going unbeaten on their way to two title-winning runs in 2012 and 2008. A hat-trick, however, isn't on the cards, according to Raul.
"The bar is always set high for Spain, but I don't think they have a solid team," said Raul. "There are too many new players and it's going to take some time for them to get a feel for one another. I don't think they're going to win it this time."
Two Euro titles and a World Cup triumph sandwiched in between is evidence of the nation's dominance over the past decade. And it all started eight years ago.
"My favourite moment was when Spain beat Italy in 2008 and heralded a new beginning for Spain," said Raul.
"For a long time they couldn't make it through the quarter-finals, but that day the wall was finally broken when we beat the Italians."
Alberto Garcia Mariscal (left), who came to Denmark three years ago to take a PhD in biomedicine, shares the same favourite moment with Raul, but thinks Spain have a decent chance.
"I was in Denmark the last time Spain won the Euros and we went to celebrate at the Little Mermaid," said Alberto. "I think we have a good team. Some of the important players, like Iniesta, are in good shape, so I am confident of a good tournament." (CW)