News
Hans-Kristian Vittinghus in Australian Open triumph
---
This article is more than 7 years old.
Dane shelves Olympic disappointment with first Superseries win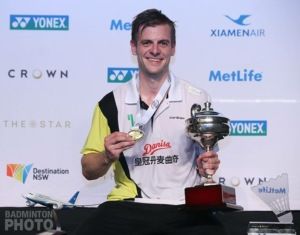 It's been a rollercoaster few weeks for one of Denmark's premium badminton players, Hans-Kristian Vittinghus.
First he was part of the Danish men's team that celebrated its first ever Thomas Cup victory last month, and then he was told he would miss out on the Olympic Games with the coach favouring Victor Axelsen and Jan Ø Jørgensen. Now, Vittinghus is on top again with his first ever Superseries triumph at the Australian Open.
The Dane, 30, secured his biggest ever individual victory by beating the South Korean youngster Hyeok Jin Jeon in Sydney in three sets 21-16, 19-21, 21-11.
"To win the tournament is massive for me," Vittinghus told BT tabloid.
"I was so elated and relieved to end the game. It's the fruit of many years of hard work, particularly considering the poor season I had last year. To come back like this, on top of the foot injury that has plagued me, is fantastic."
READ MORE: Denmark to welcome home its badminton world champs
Friendly schedule
Vittinghus's road to the title was helped along by a number of high-profile omissions from the tournament and by top seed Chen Long being knocked out in the quarter-finals.
Vittinghus is currently ranked 12th in the world, but his win is expected to push him up a few pegs in the world rankings. He still has a little way to go to be the top Dane, however, with Axelsen and Jørgensen ranked 4th and 5th.
See the entire final below.