News
CPH Post readers at Euro 2016: From Russia with bruv
---
This article is more than 7 years old.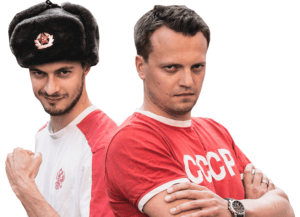 Brothers Dmitri and Pavel Kozin (left-right) came to Denmark in 1999 when their father got a job as a scientist in Risø, and while both have embraced their new nation as their home, their Russian roots will never be denied on the football pitch.
Russia had a memorable run during Euro 2008, but most of the nation's glory stems from Soviet times. The USSR won in 1960 and finished second in 1964, 1972 and 1988 – when Marco Van Basten's legendary volley sunk outstanding goalkeeper Rinat Dasayev and the Soviets in the final.
"Unfortunately we were either not born or too young to remember that. But of course we have seen the wicked Van Basten goal many times and heard a lot about that tournament from our father and others," said Dimitri.
The brothers are hoping for a repeat of 2008, but admit that getting out of the group stage would be considered a success.
"We don't have any world class players and the results of recent final tournaments have not been great," said Pavel. "On top of that, we have injuries in key positions, so if we can get out of the group stage we will be pleased. But like any Russian we yearn for another miracle."
Understandably, their favourite Euro moment is the victory against the Netherlands in the quarter-finals in 2008.
"Dima and I were living together and during extra time, we were looking at each other thinking: are they really playing that well or have we just abandoned all sense of reality? When the final whistle blew and the score was 3-1, we accepted we had not been hallucinating." (CW)