News
Amateur archaeologists find historic Viking treasure
---
This article is more than 7 years old.
Seven arm bangles discovered in a field in south Jutland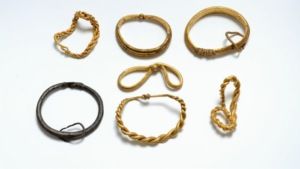 Three amateur archaeologists have uncovered one of the most important Viking treasures in Danish history.
The trio made the unique find – six golden arm bangles and one in silver – in a field in Vejen in south Jutland near Kolding using metal detectors.
"We really felt that we had found the pot of gold at the end of the rainbow, and when more bangles kept showing up, it became surreal," Marie Aagaard Larsen, one of the three lucky diggers, told DR Nyheder.
The three amateur archaeologists, which also included Kristen Nedergaard Dreiøe and Poul Nørgaard Pedersen, said they were aware that a golden necklace was found in the area in 1911.
READ MORE: Queen to open historic Viking fortress
A golden surprise
The seven bangles were probably buried together sometime during the 10th century. They weight close to one kilo in total, making the find the largest ever gold discovery from the period.
"Finding just one of these bangles is massive, so finding seven is something very special," said Peter Pentz, a Viking expert and curator from the National Museum of Denmark.
Pentz went on to explain that silver was the most used metal during the Viking Age, which makes the golden find even more audacious.
At the moment the treasure is being kept at Museum Sønderskov in nearby Brørup, but it will be sent to the National Museum of Denmark later on for further studies.