General
TV this Week: Where's Lazarus when you need him!
---
This article is more than 7 years old.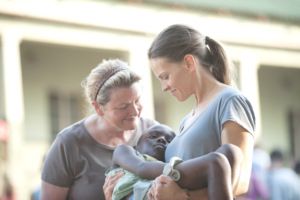 Pick of the week:
Mary and Martha
SVT1, Mon 21:00
Richard Curtis's feature-length drama – co-produced by the BBC and HBO – is a valiant effort (directed by Phillip Noyce) to bring attention to the dangers of malaria, a disease that the WHO estimates killed 438,000 people in 2015 alone.
Through the tragic stories of two women (Hilary Swank and Brenda Blethyn), who both lose their only sons to the scourge – one whilst working in an orphanage in Mozambique and the other on a holiday in South Africa – a narrative of insufferable familial grief is woven.
Disappointingly though, the drama's creators chose the stories of two Western women to act as the mouthpiece for this universal affliction – a condescending and easy choice.
Like the two female protagonists who through the course of the drama learn that their stories are atypical, hopefully too did Curtis and Noyce. (Anna Clarke)
---
Also new:
Some events have been altered for dramatic purposes, we're told at the start of the first episode of American Genius, which pitches Bill Gates against Steve Jobs in a 'showdown' to establish … well, it isn't that clear.
Really? Documentaries are rewriting history so they don't ruin the flow of their story. Were Gates and Jobs really so boring that we have to reimagine their lives to make them more appealing to American Dumbass?
Future episodes include the Wright Brothers, Randolph Hearst and Samuel Colt.
No need for a rundown on what the episodes of Richard E Grant's 7 Deadly Sins (DR3, Thu 20:45) are called. The British actor, who grew up in Swaziland, demonstrates his ease in the animal kingdom as he explains how wildlife has benefited from being sinful, from the slothful bear to the lustful baboon.
Elsewhere, we've got S4 of 1800s crime drama Ripper Street (DR3, Sun 20:00), S2 of Forbryldsen rip-off Hinterland (DR1, Sun 21:50), and the best of NorthSide Festival (DR3, Mon 20:45); armed with a cast including Ciarán Hinds, the British procedural drama series Above Suspicion: Silent Scream (DR1, Fri 23:35) is not as ludicrous as the name suggests; while the 2015 Xmas special of Call the Midwife (SVT1, Wed 21:00) includes a birth, but no stable. (BH)
---
Coming soon:
OJ: Made in America
Acclaimed with a 100 percent approval rating by the New York Times and Washington Post, OJ: Made in America is a 2016 American five-part documentary miniseries that promises to blow your mind.
Premiered at Sundance Festival 2016 and aired on ABC, this film draws a portrait of the fallen superstar starting from his emerging football career until his incarceration in 2007 for robbery.
Beyond the world-renowned trial and Simpson biography, the doc "is also a social history of race, fame, sports and Los Angeles over the past half-century", praised the New York Times. (Alessandra Palmitesta)
---
Sport of the week:
Who would have thought the goal drought in the first hour of Euro 2016 would have produced the highest score-line? Among the picks are Belgium vs Ireland (DR1, Sat 14:50), Portugal vs Austria, Croatia vs Spain (DR1, Sat 20:30), Italy vs Ireland (DR3, Wed 20:50) and Slovakia vs England (TV2, Mon 20:50). Elsewhere, we've got the European Grand Prix and Le Mans. (BH)
---
Film of the week:
Not really sure you can make up a good whistleblower. Runner Runner proves that point with its weak character motivations and posing. Justin Timberlake cried the Nile when he read the reviews. The Whistleblower, a true story starring Rachel Weisz, shows it's never simple and that's why it works. As does Frances Ha, mumblecore at its best. (BH)