News
After the storms, more typical Danish summer weather on the way
---
This article is more than 7 years old.
Roskilde Festival attendees might just be cheated out of the traditional mudbaths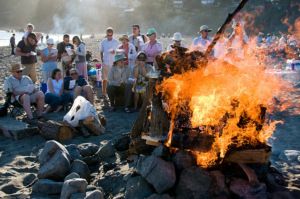 After a wild weekend of muggy heat and atypical thunderstorms across Denmark, things are returning to normal. National weather service DMI promises that June will end with typical – if slightly cooler – Danish summer weather.
Monday will start with sunshine, but some clouds and showers could move in from the west, and there is a chance of a major rainstorm on Wednesday night.
Most sun on the Sunshine Island
DMI said it was hard to predict where the greatest amount of rain would fall, but no-one would stay completely dry. Temperatures will rise towards the end of the week, but not significantly above 20 degrees, with Bornholm being the 'hot spot'.
The forecast for those rocking out at Roskilde looks to be a bit dryer than usual.
Although June has been wetter than normal, it is just evening out a very dry May and making farmers and gardeners across the country breathe a sigh of relief.