Sport
Rio 2016: Ambitious Danes aiming for double-digit medal haul
---
This article is more than 7 years old.
National sports association is expecting ten medals. How does that measure up to the CPH Weekly's predictions?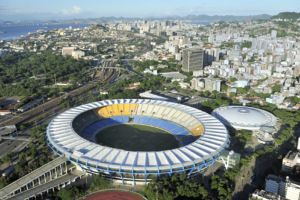 With the 2016 edition of the Olympic Games kicking off in Rio on August 5, sports fans around the world are rubbing their hands in gleeful anticipation.
Danish fans are no exception and can rest easy knowing that Denmark has never come home from an Olympic Games empty handed.
Emulating London '48
Since the inaugural Olympic Games were held in Athens in 1896, Danish athletes have always won at least one medal.
The nation's worst medal haul came in 1972 in Munich when it secured just one medal, while its best performance took place in 1948 in London following a 20-medal triumph.
In fact, Denmark has only won over nine medals in three Olympic Games – in Stockholm in 1912, Antwerp in 1920 and London in 1948.
Dare to double-digit
But the Danes will break their double-figure medal duck in Rio this summer, if you ask the Danish sports association, DAI, which has set its sights on ten medals – one better than the haul in London 2012.
"In a historical perspective, ten medals would be a sensational performance, but also a realistic one," said Morten Rodtwitt, DIF's chef de mission for the Danish Olympic Team.
"There is so much quality in the athletes and associations at the moment and our preparations have been so thorough and ambitious that we are in a position to unveil this medal target. It's been invigorating to see the seriousness and optimism from the sports leadership and I look forward to reaping the rewards in Rio."
Ten from ten
But who will be up to the task of coming through for Dannebrog this summer?
DIF has pinpointed eight sporting events that are expected to yield Danish medals: badminton, wrestling, cycling, handball, kayak, rowing, sailing and swimming.
Here are the CPH Weekly's predictions.
Swimming
London 2012 was a success for Denmark as its athletes secured nine medals, two more than predicted, but it was a disappointment for the Danish swimmers who ended up winning no medals. This time the pools will be more generous.
With top swimmers like Jeanette Ottesen, Rikke Møller Pedersen, Lotte Friis, Mie Ø Nielsen and Viktor Bromer swelling their ranks, the Danish team – which has three swimmers ranked in the top 5 in the world – looks poised to wash away the 2012 blues.
Look for the Danes to secure at least one medal in the individual races and perhaps even bag a bronze in one of the team events.
CPH Weekly prediction: 2 medals
Wrestling
Success on the wrestling mat rests solely on one man's shoulders: Mark O Madsen. The veteran lost the bronze medal in 2012 but is back stronger than ever ahead of Rio.
Madsen won silver at last year's World Championships in the 75-kilo weight class and beat reigning Olympic champion Kim Hyeon-woo en route to winning a tournament in Poland last month.
CPH Weekly prediction: 1 medal
Kayak
This event is estimated to be one of Denmark's most probable medals thanks to the powerhouse that is Rene Holten Poulsen.
The silver medal winner from 2008 in Beijing won gold at the World Championships last year in the 1,000 metres and looks ready to emulate that feat in Rio.
CPH Weekly prediction: 1 medal
Rowing
Denmark has a tradition for rowing home medals and this year is no exception with the return of the legendary 'Guldfiren' ('Golden Four').
Although the team no longer has five-time medal winner Eskild Ebbesen at its helm, it's tough to bet against Jacob Barsøe, Jacob Larsen, Jens Vilhelmsen and Kasper Winther in the men's coxless four. Two of them were part of the bronze-winning team in 2012.
CPH Weekly prediction: 1 medal
Sailing
Denmark usually brings home at least one medal in sailing and with the grand old man Jonas Høgh-Christensen back to better his silver from London, that trend looks set to continue.
Christensen won't be dealing with his nemesis and five-time medallist Ben Ainslie, who retired from the Olympics after pipping the Dane to the gold in 2012, and Anne-Marie Rindom must be among the favourites after winning the Laser Radial Women's World Championship in Oman last November.
CPH Weekly prediction: 1 medal
Cycling
With Copenhagen and Denmark being one of the most bicycle-mad places on the planet, it only stands to make sense that the Danes will pedal their way to some metal this summer.
Lasse Norman Hansen is looking to repeat his gold from London in the omnium and Annika Langvad must be among the medal hopefuls after winning the MTB XC world title in the Czech Republic last weekend.
CPH Weekly prediction: 2 medals
Badminton
It's been a fantastic year for Danish badminton thanks to their first Thomas Cup triumph in history. The Danish team hopes to capitalise on that success with Jan Ø Jørgensen and Viktor Axelsen (ranked fourth and fifth in the world) leading the way.
Christinna Pedersen and Joachim Fischer are back to follow up their bronze in the mixed doubles from 2012, as are Mathias Boe and Carsten Mogensen in the men's doubles – despite Mogensen suffering a brain aneurism just a few months ago.
CPH Weekly prediction: 1 medal
Outsiders
Denmark could well secure an unexpected medal from one of its outsider athletes – as was the case with Anders Golding's silver in skeet shooting in 2012. Who will be behind the unexpected triumph this year? It'll likely be one of three disciplines.
Handball
The men's handball team has been in a bit of a slump as of late, but it has all the talent to make a run to the medal round.
Led by Mikkel Hansen, the Danes will be hoping to get Denmark's first ever handball medal in the men's edition, the best showing currently being a fourth place in 1984 is Los Angeles.
Track and field
There's really only one chance here and it's Sara Slott Petersen. Petersen has been in superb form over the past two years, setting a number of records and becoming the first Dane to win a Diamond League title in the women's 400 metre hurdles.
She is currently ranked fifth in the world and is an outsider to become Denmark's first track and field medallist since Wilson Kipketer (800 metres) and Joachim Olsen (shotput) in Athens in 2004.
Shooting
Led by Denmark's legend of shooting Torben Grimmel, the Danish shooters have a habit of coming through with some unexpected medals – as did Anders Golding in 2012.
But actually, the Danes have some very capable trigger athletes and Grimmel (ranked 1st in 50m Rifle Prone), Stine Nielsen (10th in the 10m Air Rifle) and Jesper Hansen (ranked 8th in Skeet) are all contenders to get a medal for the Danes.