News
German tourists returning in droves to safe Denmark
---
This article is more than 7 years old.
Visitors attracted by a new three Ss: safety, security and summerhouses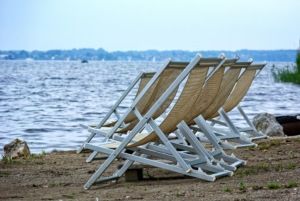 Just three years ago, German guests rented Danish summerhouses for a total of 352,000 weeks – the lowest rate since 2008 according to Danmarks Statistik.
But after three years of steady growth, those numbers are set to reach their highest level since the 1990s, according to Visit Denmark, as German tourists flock to a country they perceive to be one of the safest in Europe.
It is a reputation that advertisers are capitalising on. "In Dänemark ist die Welt noch in Ordnung [In Denmark, the world is still in order]," promises a commercial for Novasol, a holiday home rental firm, which is currently on German television.
READ MORE: Thousands of cruise ship tourists flocking to Copenhagen
Border controls' unexpected boost
According to Lars Ramme Nielsen, who is responsible for the German market at VisitDenmark, "the refugee crisis, terrorism and those sorts of things" have been a major factor.
"Safety and security are very important for Germans," he told Reuters.
"It shows in many ways in German society and also in their choice of holiday destinations. While tightening the borders maybe harmed Denmark's image a bit, I think it's having a positive effect on tourism."
Rentals to soar in August
While summerhouse rentals increased by 6 percent last month compared to July 2015, according to VisitDenmark, a 15 percent rise is expected in August.
German tourists account for approximately 85 percent of the bookings at Danish holiday homes each year.
Meanwhile, climate change is also boosting tourism, according to a Greek study co-funded by the DMI meteorological institute.
It named Denmark as the third most likely European country to benefit from a rise in global temperatures, behind just Andorra and Luxembourg on the tourism-climate index.
But while those countries are both landlocked, Denmark has a 7,314 km coastline, placing it at number 16 in the world ahead of the likes of Chile and India.