News
Pope considering invitation to visit Denmark on November 1
---
This article is more than 7 years old.
If confirmed it will be the first papal appearance since June 1989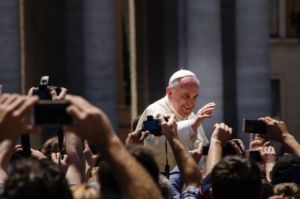 Henrik Dam Kristensen, the president of the Nordic Council (Nordisk Råds), has inquired about the possibility of Pope Francis making the opening address at the next meeting of the inter-parliamentary body at Christiansborg on November 1.
The pope will be in Sweden in late October, visiting both Lund and Malmö as part of the 500th anniversary of the Reformation.
And it is believed he is holding a mass in Malmö on November 1, but the venue remains unconfirmed.
READ MORE: Pope Francis coming to Malmö
Awaiting a final reply
Kristensen, the former employment minister, confirmed the inquiry to Ekstra Bladet, revealing that the Vatican had replied and requested a formal invitation, which the council has complied with.
"Such a response normally means that it isn't impossible that the Pope might visit, so we're keenly waiting for the final answer," he told the tabloid.
Papal visits are rare
Should Pope Francis come to open the meeting, he will become the first pontiff to visit Denmark for 27 years.
John Paul II visited Denmark on 6 and 7 June 1989 as part of a five-country tour of the Nordics.
Papal visits are rare to Protestant countries like Denmark. For example, John Paul's visit to the UK in 1982 is the only time a pontiff has visited the country in its entire history, while his 1980 visit to West Germany was the first since 1782.