News
Increased security at Eagles of Death Metal concert
---
This article is more than 7 years old.
Some 90 people were killed during the band's performance in Paris last year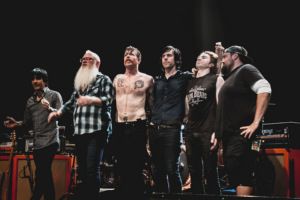 Increased security measures will be in place for a concert by the American rock band Eagles of Death Metal, who are performing tonight at Amager Bio in Copenhagen.
Last November, some 90 people were killed and many seriously injured by three heavily-armed gunmen during the band's performance at Bataclan concert hall in Paris.
According to Copenhagen Police, the concert in Denmark is "no more a target for terrorists" than any other large public event, but "some special security measures will be put in place" nevertheless.
READ MORE: Danes come out in force for France
Touring again
"We have obviously considered what happened in Paris and assessed the situation closely," Jens Jespersen from Copenhagen Police told DR.
"We will do more than what we normally do at concerts at Amager Bio."
In February, Eagles of Death Metal resumed their European tour with a concert at the Olympia venue in Paris and offered free tickets to those who had attended their November concert.
Despite its name, the band does not play death metal music but a combination of hard rock and bluegrass.
It was formed in 1998 in California by singer and guitarist Jesse Hughes and drummer Josh Homme.