News
More foreigners tying the knot in Copenhagen
---
This article is more than 7 years old.
Almost 2,000 foreigners said their 'I do's' last year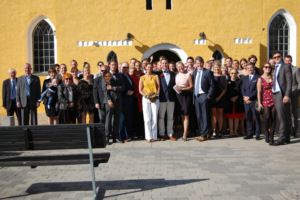 The wedding bells are tolling for more and more foreigners in Copenhagen these days, according to Copenhagen Municipality.
Last year, almost 2,000 foreign couples were married in the Danish capital – well above the 686 who took the plunge in 2012.
"We've never wed so many people from abroad before here in Copenhagen, and we've seen quite an increase," Flemming Otto, a spokesperson from City Hall, told DR Nyheder.
"We have already wed over 1,000 couples this year, and the trend looks to be continuing."
READ MORE: Bornholm planning to become popular wedding destination
'I do', 'Qui', 'Si' and 'Da'
Otto contended that Copenhagen's reputation as an exciting city, relatively high service level and short processing times may have contributed to the rise.
According to City Hall, many couples come from Scandinavia and neighbouring nations, while others come from more distant countries.
"In the coming weeks we have couples coming in from the US, Australia and Russia," said Otto.