Business & Education
More than a match for Reptilicus: The devilish girl of the silver screen
---
This article is more than 7 years old.
If all Danish actresses were as colourful as '50s B-movie actress Hanne Smyrner, the nation's gossip magazines could forget all about Hollywood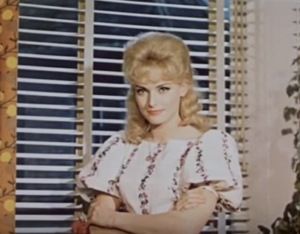 Homegrown stars here in Denmark are a pretty sensible bunch, not normally known for their primadonna temperaments or tempestuous love affairs. With their feet set firmly on terra firma, their staid day-to-day lives lend slim pickings to the county's glossy weeklies that thrive on gossip about the rich and famous and must make do instead with Hollywood hearsay or the latest take on any one of the scandalous footballer fiascos unfolding in Europe.
But the nation's starlets haven't always been built with more common sense than a girl guide. In the 1950s, when voluptuous blonde bombshells be-bopped breezily through thousands of forgettable B-movies, one name became synonymous with outlandish themes, from tussling with 12-foot monsters to dabbling with Satanism to dating Arab princes.
Compared to her more down-to-earth countrywomen, Hanne Smyrner tried it all, from weird religions to writing children's books, and was unable to stick it out with any of them.
Gossip galore
So much tittle-tattle surrounds Smyrner that it has been almost impossible for this poor writer to sift through the piles of gossip and separate fact from fiction.
What is known for sure, though, is that Ann Smyrner, as she was usually billed on the silver screen, was born Hanne Smyrner in Frederiksberg on 3 November 1934. After training with Aarhus Theatre from 1955 to 1956 (where her father, an actor, was a major player), she debuted in the theatre's production of Aladdin to mixed reviews. Offered a permanent position with the theatre, it was around this time that her film career took off after she was 'discovered' by a talent scout and handed a five-year contract by German production company Deutsche Filmhanse.
Under them, she was cast in some of the most offbeat, modern films of the period including her only role in a Danish film, 1961's 'Reptilicus', the country's first and only sci-fi monster flick. 'Reptilicus' has become something of a cult classic and was actually reissued on DVD several years ago. The 'so bad it's good' monster movie also managed to incorporate variety star Dirch Passer into the preposterous tale of a giant lizard on the rampage through the streets of Copenhagen.
The word backstage on the Reptilicus set was that it was thanks to Hanne Smyrner that the film 'lost' it's one and only American star, Nora Hayden, who apparently refused to take second billing to the young Smyrner, who was depicted in most scenes wearing a variety of ill-suited gingham smocks.
Religions abound
In 1970, Smyrner fell ill and was admitted to hospital, after which she gave up acting. She dabbled in various religions, and was for some years quite openly practising Satanism before converting to Buddhism. And if we are to believe everything we read (which of course we should not), in her short career she has, amongst other things: embarked upon a disastrous recording career, almost become engaged to Prince Faref Husseing (the brother of the king of Jordan), been bitten by a rabid dog during filming in South Africa, been inaugurated into an occult sect in a Hindu ceremony in Ceylon, suffered a total breakdown on the Zurich-Rome Express, and had her own religious radio show on DR.
Today Smyrner lives with her husband, Ole V Hansen – the former editor of Denmark's biggest family weekly, Familie Journalen –in Benalmadena just outside Marbella, Spain because, as she said in an interview in 2001, "both the country [of Denmark] and its people are too cold and boring."
But not everyone thought she was too much of a handful for the placid Danes to deal with.  According to veteran press photographer Vagn Hansen (no relation to Ole), she's one of the most photogenic people he ever took a picture of.
"She was a real pleasure to photograph," he said. Just don't go anywhere with her on a train or get her started on religion.