News
Swede sets new record at Ironman race in Copenhagen
---
This article is more than 7 years old.
Danish athlete wins female competition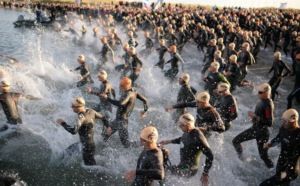 Swedish pro-triathlete Patrik Nilsson has set a new record at KMD Ironman Copenhagen today.
Nilsson finished the challenging race in 7 hours, 49 minutes and 18 seconds, which is not only 14 minutes better than the previous record set by Dane Henrik Hyldelund but also the fifth fastest time in the world.
Will Clarke from the UK lost 10 minutes on Nilsson and ended second, while Brazilian Fabio Carvalho took bronze.
READ MORE: Copenhagen hosting the world's largest triathlon event
Danish amateur athlete Katrine Meldgaard was with her time of 9 hours, 37 minutes and 53 seconds the best among women.
About 50 different nations took part in this year's race and more than 200,000 spectators were expected to cheer along the route.
Sunny and warm weather were the perfect conditions for the sportsmen had to tackle a 3.8 km swim, 180 km bike leg and a full 42 km marathon.