News
CPH Airport eyeing baggage area expansion
---
This article is more than 7 years old.
Another 500 sqm due to be ready by the summer of 2018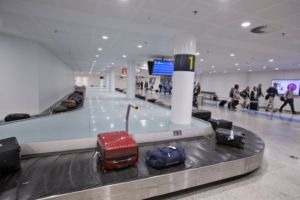 Copenhagen Airport is looking to considerably expand its passenger capacity over the next few years, and to accommodate that move, it also intends to increase its baggage area.
The airport has announced it intends to shell out 100 million kroner for a baggage area expansion that is expected to be completed by the summer of 2018.
"In recent years, we have seen quite significant growth in passenger numbers; in the first seven months of this year alone, the growth rate was in fact 10.7 percent," said Kristian Durhuus, the COO of Copenhagen Airport.
"Although far more passengers today travel with only carry-on baggage, the overall volume of checked baggage has also grown somewhat. We have therefore started planning for an expansion of the baggage reclaim area."
READ MORE: CPH Airport expansion plans hit SAS turbulence
Targeting 40 million
Today, the baggage area consists of about 2,500 sqm, but in the future an extra 500 square metres will be added and two of the eight current baggage carousels will be increased in length.
The space will be acquired by incorporating adjacent rooms that have functioned as office space.
Last year almost 27 million passengers passed through Copenhagen Airport – a figure that the airport is aiming to increase over time to 40 million.