News
Danish company fuelling a cleaner future in Uganda
---
This article is more than 7 years old.
C F Nielsen looking to turn everyday food waste into a usable and more sustainable energy source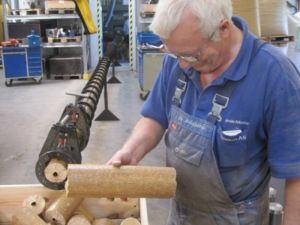 C F Nielsen, a small company from north Jutland, is developing a machine that can turn everyday food waste into a usable and more sustainable form of fuel that can be used for cooking.
The plan is to try it out next year in Kampala, Uganda, which – like many other developing nations – is heavily reliant on wood and coal as energy sources, much to the detriment of the surrounding environment and forest ecosystems.
"We need to stop the deforestation," Mogens Slot Knudsen, the head of C F Nielsen, told DR Nyheder.
"What we do here is use waste products from agriculture or other areas so people don't need to chop down trees and forests."
READ MORE: South African wine workers call for Danish boycott
Waste to fuel
Through the process of 'briquetting' – a process in which raw materials are compressed under high pressure to form a round or square briquette – the company produces small blocks of material that can be used for heating purposes.
Anything from corn stalks, both peanut shells and sugar cane refuse can be transformed into an alternative for other unsustainable fuel sources.
The new briquette machine has been helped along via the support of Access2innovation, a collection of civil organisations, companies, research centres and authorities dedicated to generating sustainable projects and solutions abroad.