News
Another vehicle hit by a stone tossed from an overpass in Denmark
---
This article is more than 7 years old.
Rock-throwing incidents continue to plague drivers on Danish motorways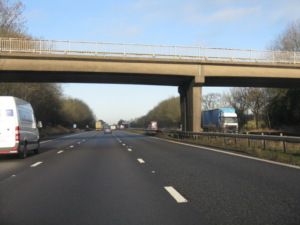 Copenhagen Vestegns regional police are reporting yet another rock-throwing incident on a Danish motorway.
Three or four people were seen running away from an area by Holbaek motorway between Taastrup and Sengeløse where a lorry windshield was struck at about 9:20 this morning by a large stone thrown from a bridge over the motorway.
A deadly game
The attack is the latest of several incidents in which stones have been dropped onto vehicles from motorway bridges.
The most serious of these was when a German woman died on a Funen motorway when a 30-kilo stone struck the car where the woman sat with her husband and her five-year-old son. The boy escaped serious injury, while the man was badly injured.
No arrest has yet been made in that case.