News
Lars Rebien Sørensen to step down as head of Novo Nordisk
---
This article is more than 7 years old.
Lars Fruergaard Jørgensen to assume control of the CEO reins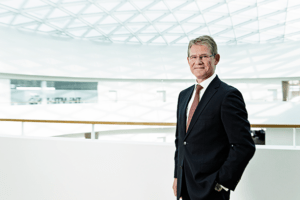 The Danish biotech giant Novo Nordisk has revealed that Lars Rebien Sørensen will be stepping down as company CEO by the end of the year.
Sørensen, who has led the firm for the past 16 years, will be succeeded by Lars Fruergaard Jørgensen, the company's current executive vice president and head of corporate development.
"It has been an honour to work here for more than 30 years and to serve as CEO during a period in which we have been able to grow our business, build a strong pipeline and launch important new products to the benefit of our patients, our shareholders and our employees," said Sørensen .
"I have been closely involved in the assessments that have led to the board's decision to appoint my successor – a decision that I fully support. He is a great businessman and people leader and has a natural ability to find solutions where others see problems."
Sørensen won't completely disappear from the halls of Novo Nordisk, as he has been put up for two board positions within the company.
READ MORE: New insulin product reflects well on Novo Nordisk financial results
Lars replaces Lars
Jørgensen has some considerable shoes to fill. Sørensen first joined Novo Nordisk way back in 1982 and worked within the enzyme business that later developed into Novozymes.
In 2000, he became CEO at a time when the firm had a turnover of 20.8 billion kroner and net profit of 3.1 billion kroner. Last year, the company enjoyed a turnover of 108 billion kroner and net profit of 34.9 billion kroner.
"On the one hand, Novo Nordisk has never had a stronger portfolio and organisation; on the other hand, we are facing an unprecedented level of payer pressure and competition," said Sørensen.
"I love challenges, and therefore I can't think of a more exciting time to be offered the job of CEO at Novo Nordisk – a company I have served for more than 25 years and am really passionate about."