News
British tabloid outraged by Danish doll's audacity on 'The X Factor'
---
This article is more than 7 years old.
The Mirror exposes professional past of singer-songwriter Sada Vidoo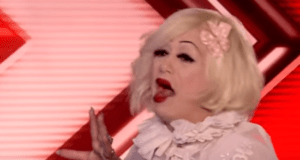 British newspaper the Mirror is outraged. No, not because of the UK's widespread inequality, or even Brexit, this time it's 'The X Factor' and the news that somebody with professional experience – this time a Dane – has dared to audition for the show. Like that's never happened before.
"X Factor 'living doll' Sada Vidoo EXPOSED as Platinum-selling established act from Denmark," its headline screamed yesterday. One of Vidoo's songs was "nominated for a Danish Club Hit of the Year Award in 2007", it continued, as if this was the ultimate honour in showbiz.
Anything you can do …
Vidoo, of course, is only replaying the gesture of Andrew Murray, an Owls fan from Sheffield in England who finished fourth in the Danish equivalent of the show, 'X Factor', this year.
And the inclusion of performers with professional experience is nothing new. Last year, British media reports revealed the vast majority of the final 16 of the UK show had significant experience in the industry.
Pally with Dansk X Factor judge
Vidoo's 2007 platinum hit was 'Ten Miles' for the band Infernal (another X Factor tie, as its lead signer Lina Rafn is one of the country's best known judges), and she has also worked with the duo Me & My.
She released her own album, 'A Story with No End', in 2014, which included a cover version of Pat Benatar's 'Love Is a Battlefield', the song she sang in her audition.
Cowell not impressed
Nevertheless, despite four yeses, uber judge Simon Cowell was not impressed by her decision to perform as 'Living Doll'.
"She is barking mad, you know that?" he told his fellow judges, before telling her: "Sada – you're not a doll, this is ridiculous."
As she left the stage, co-judge Sharon Osbourne quipped: "She's got to get back to Toys R Us; she's got to be back in the window by the morning."
The UK's 'The X Factor' returns to Danish screens next Tuesday (September 13) at 20:00. In the meantime, watch Sada Vidoo's performance below.