News
Government looking to improve conditions for veterans
---
This article is more than 7 years old.
But the veterans say not enough is being done for the most vulnerable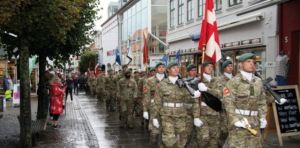 On the very day the nation paid tribute to all the country's deployed soldiers since World War II yesterday, the government unveiled its plans to analyse and improve the support measures in place for its veterans.
The defence minister, Peter Christensen, contended it was time to take a look at how society can help improve the situation for Denmark's veterans and their loved ones.
"Denmark has a solid veteran support system that builds on many years of work and experience," said Christensen.
"The government believes it is important to continue on with the positive development while focusing on the effect on the veterans and their next of kin. They deserve it, and that's what our service check will ensure."
The service check will pinpoint a number of areas in which Danish society can better assist when it comes to recognition, support and opportunity – such as how to get more veterans into the job market and how to better support those struggling with Post Traumatic Stress Disorder (PTSD).
See the government's veteran plan here (in Danish).
Not good enough
Meanwhile, the veteran advocacy organisation Veteranalliancen has criticised the government's new effort for not taking into consideration those veterans who are in the greatest need of help.
Claus Stenberg, a spokesperson for Veteranalliancen, said the help available for veterans who have been seriously injured during international missions is lacking.
Stenberg argues it is because the government completely avoids the question about work-related injuries while not looking to change the traditional outlook that physical injuries are of greater significance than psychological injuries.
"If you are injured physically, you can have a degree of disability of 100 percent, depending on the extend of the injury. But if you have a psychological injury, you can get a maximum degree of disability of 35 percent," Stenberg told DR Nyheder.
"If you have a serious bout of PTSD and can't move away from your home, and perhaps will never enter the labour market again, you can't be adequately compensated."