News
Nature Agency to restore sand drift area in central Jutland
---
This article is more than 7 years old.
More farmers applying for a permit to shoot young deer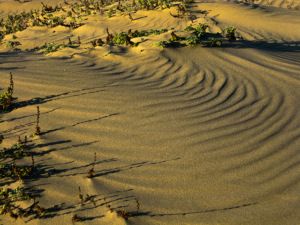 The Danish Nature Agency is planning to restore a 70-hectare sand dune area in Gyttegård Plantation on the outskirts of Billund in central Jutland, which was forested just four years ago.
The unusual initiative has been approved to ensure different types of insects, grasses and mosses to return and thrive in the area.
According to Claus Simonsen, a supervisor at the Nature Agency Trekantsområdet, it's a little ironic that people in Denmark have been fighting sand drifts for centuries, but now for the first time they are trying to recreate them.
A deer cost
Meanwhile, a growing number of Jutland farmers are applying for a permit to shoot young deer because they are eating their crops.
This problem with the fawns is particularly notable in the Thy region in northwestern Jutland.
"We did not want to regulate [the population of the] fawns, but last year it went completely wrong as they ate 8-10 hectares [of my crops] and caused a lot of damage," farmer Jens Jørgen Henriksen complained to DR.
READ MORE: Deer running amok in Denmark
Although Henriksen applied for a permit to shoot the young deer, he is also using other methods to chase off the animals.
"We have set up fences with plastic tapes that sing in the wind, and we've got some hair from a hairdresser that we've set up in small bundles on poles around to function as deterrents," Henriksen explained.
Henriksen has lost 100,000 kroner due to the hungry deer.