News
Denmark signs international convention for environmentally-sound recycling of old ships
---
This article is more than 7 years old.
Country wants to lead by example and inspire others to sign the agreement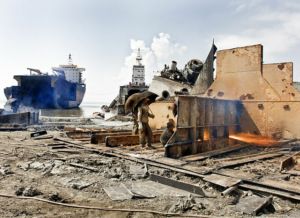 Denmark has decided to ratify the Hong Kong Convention for the safe and environmentally-sound recycling of ships, the environment minister, Esben Lunde Larsen, has announced.
In the spring of 2017, Denmark will pledge to follow a set of regulations that aim to ensure old ships, which are out of operation, "do not pose any unnecessary risk to human health and safety or to the environment".

One of the regulations is that ships will be required to carry an inventory of hazardous materials.
READ MORE: Denmark's merchant fleet has never been bigger
Leading by example
"As a responsible country with a responsible shipping industry, we have to push on and lead by example [to other countries]," Larsen stated.
According to Anne Steffensen, the CEO of the Danish Shipowners' Association, about 1,000 old ships are scrapped worldwide every year, of which 70 percent are dismantled on beaches in India, where they pose a great environmental risk.

"When Denmark ratifies the convention it will hopefully put pressure on other countries," Steffensen told DR.

READ MORE: World's longest Viking shipwreck to be exhibited in Denmark
Few have joined
In the period from 2009-13, Danish shipping companies sent 18 ships to breakage yards in India, Pakistan and Bangladesh.
The Hong Kong International Convention was adopted in May 2009 at a diplomatic conference attended by delegates from 63 countries.
It will come into force two years after at least 15 states, representing 40 percent of the world's gross tonnage, have ratified it.
As of January 2016, only three countries representing 1.98 percent of world shipping, had signed the agreement.