News
Malaysia looks to Denmark for milk knowledge
---
This article is more than 7 years old.
Danish expertise to help meet rising Malaysian dairy demands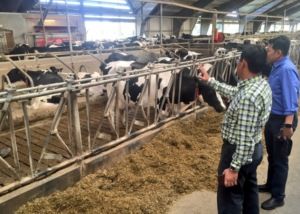 Denmark and Malaysia will today sign a co-operation agreement regarding the use of Danish stall technology and food security in Malaysia.
The food and environment minister, Esben Lunde Larsen, will meet with the Malaysian agriculture minister, Ahmad Shabery bin Cheek, in Denmark to seal the deal.
"Malaysia wants to be able to provide its very large food industry with fresh milk. And while we can export fresh milk all the way to Malaysia, we can sell knowledge about everything from stall facilities to the processing and transport of milk," said Larsen.
"We want a long-term co-operation with Malaysia, and we are now starting a partnership that I am sure both countries will benefit greatly from."
READ MORE: Danish tech helping Malaysia to produce sustainable fish
A Danish dairy-tale
As part of his visit to Denmark, the Malaysian minister and his delegation will visit Danish dairy giant Arla to get a closer look at Danish dairy production as it makes its way from the farms to the shelf.
At the moment, nearly all dairy products in Malaysia are imported and the demand for fresh milk, yoghurt and cheese continues to rise by 5-10 percent annually.
The co-operation agreement between the two nations concerns the transportation and cooling of milk and overall hygiene standards, and a number of Danish companies have been invited to Malaysia next year to visit prospective co-operation partners and authorities.
Aside from partnering up in the dairy arena, Denmark and Malaysia are also planning further co-operation regarding aquaculture and the development of stall facilities.
The dairy deal follows on the heels of a co-operation agreement the two nations signed earlier this year regarding Danish technology in the Malaysian fishing industry.