News
Brilliant FC Copenhagen enjoy Belgian beatdown
---
This article is more than 7 years old.
Lions get four past beleaguered Club Brugge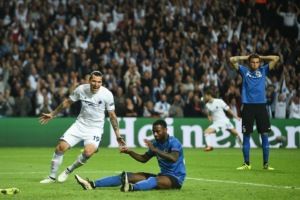 FC Copenhagen continued their rich vein of form this season by battering Club Brugge 4-0 in the Champions League last night.
After a goalless first half, the Danish side finally made the breakthrough courtesy of an own goal early in the second half, before missing a penalty.
But then up stepped captain Thomas Delaney to score what must be a contender for Champions League 'goal of the season' from 30 metres out (see goal below).
That second goal after 65 minutes visibly broke the Belgian spirit and when Frederico Santander volleyed home the third five minutes later, it was 'game over' in Flemish.
Mathias Zanka Jørgensen added an injury-time header to complete the rout.
Foxes await Lions
"Our opportunity for progression has increased, but now two tough games against Leicester await, and they can yield everything from zero to four to six points," said coach Ståle Solbakken.
"We see good chances for points in games four, five and six, and it isn't an impossibility to beat Leicester away, but the fans who come to the last two games can expect to see some good matches."
READ MORE: Heroic ten-man Lions earn point in Portugal
Cruisin' for a Bruggin'
With the win, and Leicester's 1-0 win against Porto in the other Group G match, FCK sit comfortably in second place with four points, two behind the English champions and three ahead of Porto.
The Danes earned a solid draw at Porto in the first round. Club Brugge are last with zero points and a goal difference of -7.
Next up for the Lions is Leicester away on October 18.