News
Copenhagen enters into climate co-op with Washington DC
---
This article is more than 7 years old.
US capital looking to follow Danish lead into green transition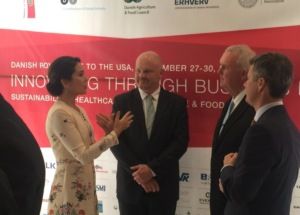 Copenhagen and Washington DC have signed an agreement regarding the exchange of knowledge and experience about climate and the adaptation of measures to cater to the effects of climate change.
The deal is similar to the one the Danish capital inked with New York last year, and it could significantly boost Danish companies and their efforts to export green solutions to the US market.
"With the UN climate deal, it has been agreed to keep the global temperature increase to under 2 degrees," said Copenhagen's deputy head of technical and environmental issues, Morten Kabell.
"Since major cities account for 70 percent of global CO2 emissions, there will be a massive need to invest in the green transition of the cities. Additionally, the cities will be particularly vulnerable to the extreme weather phenomena associated with climate change."
READ MORE: Danish companies and politicians in New York as city plans to go green
Copenhagen calling
The deal was signed on Thursday by Kabell and Tommy Wells, the head of the Department of Energy and Environment (DOEE) in Washington DC.
Internationally, Copenhagen is well respected for leading the way with the green transition, and since 2005 the city has reduced its CO2 emissions by 38 percent, despite the population growing by 16 percent. The Danish capital is aiming to become the world's first CO2-neutral capital by 2025.
"Global climate change impacts on all of us," said Wells.
"Coastal cities have an important task protecting themselves against the inevitable floods we will see more of in the future. Co-operations like between Copenhagen and Washington DC make it possible to share experiences about how we can best protect our cities and citizens against climate change."