General
Restaurant Review: They may be spare ribs, but I'm not sharing!
---
This article is more than 7 years old.
TGI Fridays the perfect place for a family to unwind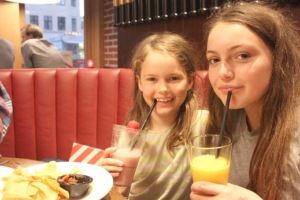 Sure, in our household we sometimes say finger-lickingly good, but it's not our DEFCON 1.
No, that's Daddy-wipingly good: when the desire to tuck into the next rib is so strong you reach for the nearest available fabric – preferably a damp spot on Daddy's trousers (the hope that it's water-borne is a mere-afterthought) – and wipe, deposit, and resume devouring.
Daddy's great rack
The ribs at TGI Fridays (which opened in July 2015 just off Strøget around the corner from Illum) really were that good! Cooked to tender, the Jack Daniel's Glazed Ribs (199kr) are then seasoned with Cajun spices and finished off on the coals.
They arrived on a plate so huge the Close Encounters mashed potato mountain wouldn't have looked out of place as a side.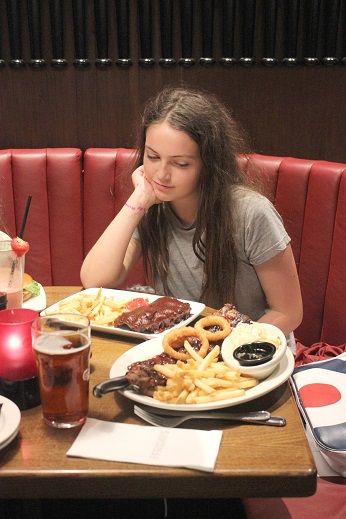 Daughter No 1 could only look on in disbelief, lips parted in aghast, as my actual ribs took a pounding from my laughter. She'd just been served the kids ribs – an absolute bargain for just 59 kroner that comes with a soda; other dishes for the same price include the burger, mac and cheese, and chicken breast – and thought she had won the pools.
But Daddy's rack (you don't often hear that) was the talk of the town; it was so big I was half expecting a round of applause from the restaurant.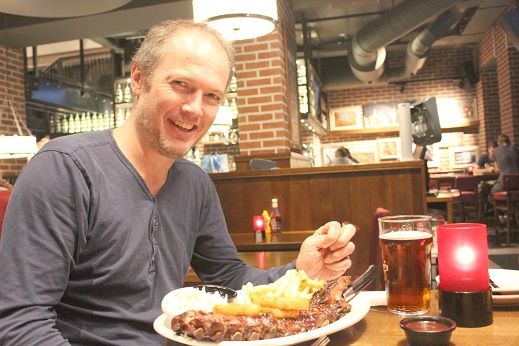 The consumption was a joy. An effortless one-handed carve, I could have eaten the tasty ribs using my gums alone. Stripped to the bone in seconds, my daughter's bones stuck out on the discards plate like fresh additions to a vulture's lunch.
Father-daughter bonding
Looking out from our comfortable red leather booth around this spacious, redbrick premises dedicated to sports-loving carnivores – a New York skyline depicted by upturned baseball bats is a standout – I could imagine the alternative universe version of myself taking my young son to watch his first Champions League game.
Burgers, big screens, bar seats – the ultimate boy-bonding watching Barcelona getting beaten by Crystal Palace.
But then my daydream was interrupted by (did I mention I only have daughters?) Little Miss Plate Envy slowly repeating the three letters, in a style reminiscent of Hannibal Lector, which have surely broken many an expat's heart: "FCK. FCK." That's the last time I'm taking her to Selhurst Park.
For such a visit, the tortilla chips are a good bet for sustenance – particularly the one with the spinach/artichoke dip (89kr). But don't overdo it if you're having mains, like we did, although it's hard to regret something as delicious as the delicate bruschetta with feta (69kr).
Tastes like Mel Gibson
Besides the kids menu (for under-13s), the youngsters are well looked after with a colouring book and a wide range of drinks: milkshakes, smoothies and even slush ices.
The standouts were the smoothies, and while most of the table preferred the mango option, I was blown away by the 'Gold Medalist' (49kr), a delectable concoction of fresh banana, strawberry purée, cream of coconut, pineapple juice and grenadine that reminded me both of 1980s cocktails and films – Mel Gibson dressed in a Hawaiian shirt sipping a pino colada in 'Tequila Sunrise' to be exact.
For the adults there's an extensive range of reasonably priced cocktails (79-99kr). To complement the kids' drinks we were tempted to try the 'Ice Cream Sandwich' and 'Strawberry Shortcake', but will have to leave that for a future visit when we are kids-free and on the razzle.
Stalker-level obsession
Another reason I will be returning is the desserts. Gawd knows why Brown Eyes opted for a slush ice in a glass, but she was happy to pose with my 'Brownie Obsession', another gooey number to complement my rib odyssey.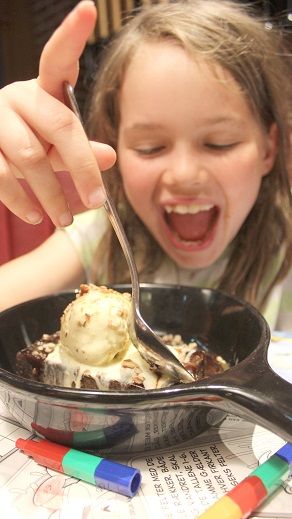 That and a really refreshing, palate-cleaning 'housemade lemonade' rounded off the perfect meal – before you report me to the child welfare authorities, I did let my daughter have a couple of my ribs – which I would heartily recommend to any family seeking fairly-priced, hearty fare.