News
Danish cargo bike company partnering with DHL
---
This article is more than 7 years old.
First Europe, now Asia as DHL is introducing the Danish cargo bike at more of its distribution centres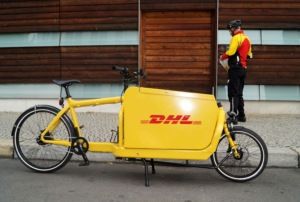 Copenhagen bike maker Larry vs Harry has partnered with international express mail services company DHL to develop an electric cargo bike with a theft-proof box that makes it a good choice for transporting packages in urban areas.
"We are excited to be working with a partner like DHL," said Hans Fogh, the owner of Larry vs Harry.
"It makes us visible worldwide and underscores that our cargo bikes help to reduce congestion in cities."
Reducing urban congestion two wheels at a time
Currently about 75 of the company's cargo bikes bearing the DHL logo are in use in Europe. That success has resulted in DHL continuing the project in Asia, where there is a long tradition of bike-based delivery.
Research has shown that about 50 percent of the light freight delivered in cities could be transported by cargo bikes.
READ MORE: Pizza on wheels: Bikes, breaks, bakes – a delivery like no other
Larry vs Harry's Bullitt cargo bikes can carry about 100 kg. Larry vs Harry was founded eight years ago in Copenhagen.