News
Four MPs thrown out of Parliament for Aleppo t-shirt stunt
---
This article is more than 7 years old.
Speaker of the house Pia Kjærsgaard rules that attire conveying political statements cannot be tolerated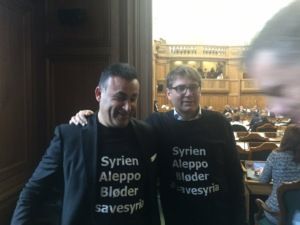 Pia Kjærsgaard has always been considered a tough no-nonsense type of lady. The MPs Naser Khader (Konservative), Jan E Jørgensen (Venstre), Jane Heitmann (Venstre) and Brian Mikkelsen (Konservative) can atone to that.
The four were told by the speaker of Parliament to leave after they showed up wearing t-shirts condemning the attacks on Aleppo by the Syrian regime.
"I asked them to take off their t-shirts as that's standard procedure in there," Kjærsgaard told DR Nyheder.
"We have ample opportunity to express our opinions from the speaker's podium – that's why we are politicians. It is not acceptable to sit in t-shirts or other items of clothing that convey a political standpoint."
READ MORE: Denmark condemns attack on aid convoy in Syria
Appalling in Aleppo
The t-shirts were black and had the text 'Syria, Aleppo, Bleeding #savesyria' printed on them.
On September 22, the Syrian military launched an offensive against the rebel fighters in the city, which has led to 270 people dying, including 53 children.
Once the commercial capital of Syria, Aleppo has been divided between the rebels in the east and the government's forces in the west since violence erupted in the city in 2012.