News
Aarhus to spend next year "rethinking" as the European Capital of Culture
---
This article is more than 7 years old.
5 million extra visitors expected to the Jutland city in 2017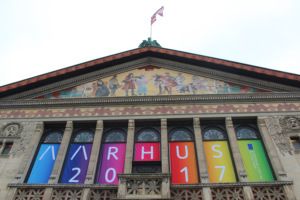 While London has hit the brakes on Europe, that hasn't stopped Aarhus, the European Capital of Culture 2017, from appointing a British CEO to stand behind their wheel.
Rebecca Matthews was at the helm as the full program of the project was unveiled on Wednesday at the Aarhus Theatre as part of a grand event that included performances by various artists including Eivør and DJ Static.
Creative tour de force
"Aarhus will dedicate a year to rethinking. It is going to be a creative tour de force," declared Matthews.
"We are extremely excited about the year ahead. The quality and diversity of the program we have assembled means there is truly something for everyone, whether you're from Aarhus, Denmark, or visiting from elsewhere."
Matthews and Aarhus 2017 program head Juliana Engberg presented a whopping line-up of theatre, art, design and film projects, sport events, music festivals and other initiatives in Aarhus and the central Jutland region, starting from January.
The full details are now available in the official program guide, which consists of a staggering 500 pages. The first edition was given to the patron of Aarhus 2017, Queen Margrethe II.
5 million visitors expected
"We have created a huge, game-changing year by combining the knowledge of global experts on culture with the views of local people to determine what quality means in and for arts and culture, here and now," said Matthews.
READ MORE: Aarhus among Lonely Planet's top European destinations
Aarhus's tourist numbers have been pretty good recently, but next year looks set to smash its record, with 5 million extra visitors expected, according to the mayor of Aarhus and chairman of the Aarhus 2017 foundation board, Jacob Bundsgaard.
Aarhus 2017 will officially launch on January 21.