News
Obituary: Danish theatre has lost one of its brightest lights
---
This article is more than 7 years old.
Martin Tullinius, the artistic director of Republique theatre, has died aged just 49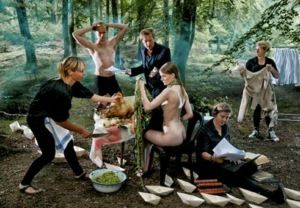 Martin Tulinius, the artistic director of Republique theatre, has died after a long illness. He was 49.
A master of all
Martin was, without doubt and without argument, the embodiment of artistic energy,  managerial brilliance and political savvy.
He was a theatre manager, director, playwright, stage designer, photographer and sculptor. This list of achievements is long and would, in most cases, bring to mind the English phrase 'Jack of All Trades and Master of None'.
However, with Martin, this was simply not the case. He was truly remarkable. Anyone who knew him would say without a doubt he was a master of all that he turned his hand to.
A beacon for the city's talent
I knew him mainly as a photographer – he had a natural and curious eye for composition, light and the story – and theatre manager, and we collaborated on several projects together and also a photobook.
The first project i made with him was at the Kaleidoscope Theatre on Nørrebrogade. Entitled 'Mandagsblag', it was 10 evenings on 10 consecutive Mondays that consisted of a talk, a performance by me (different each week), and then a screening of Kieslowski's 'Decalog'.
Those evenings introduced me to people who would remain my friends to this day and colleagues who have supported my now career. Martin facilitated this and I find myself with a deep sense of gratitude for the atmosphere that he created.
I believe that many of us who knew him experienced him like this. He started Kaleidoscope in 1993 with Mikkel Harder Munck-Hansen and I found them both to be remarkable in that they were so young, talented and focused. On arriving in Denmark at that time, Kaleidoscope was the only place i wanted to work as an artist.
Achievements that speak for themselves
Martin won many awards and on seeing 'K', his play about Kafka, I could understand why. I went in sceptical and came out a believer. It was a very mature work that flowed easily and poetically encapsulating a existential.
And as a theatre manager he has been no less brilliant. With HC Gimbel he has steered Republique Theater to success after success. Each and every year at the Reumert awards a Republique production is either winning or giving other productions and theatre a run for their money.
He directed with aplomb and no-one that saw a Tulinius stage design will forget them. His own works have toured internationally, to great critical success, and I am hit by the fact that there is simply no need to inflate any achievements of Martin. It is just reportage. The facts and achievements speak for themselves.
Embodied the here and now
Martin Tulinius had an energy that was powerful, forward-facing and based firmly in the present and future. There was an absolute and complete lack of wallowing in the past as he embodied completely the here and now. He moved with grace, charm and skill though the artistic, political and social landscape and will be sorely missed.
In his obituary in Berlingske, Jakob Steen Olsen brilliantly observed: "Når et menneske, der har været så meget til stede som Martin Tulinius, forsvinder, bliver der ekstra stille." (When a man who has been so much present as Martin Tulinius disappears, there will be extra quiet.) How very right and how very sadly accurate. RIP Martin, RIP.
The funeral will take place at 12 noon, Wednesday October 19, at the Holy Cross Church in Nørrebro.