Things to do
At Cinemas: The fateful day 'Pete's Dragon' blew off 'Star Wars'
---
This article is more than 7 years old.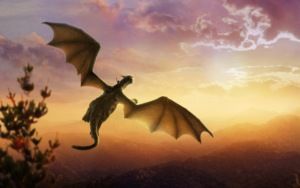 The year was 1978. The four-year-old boy was about to make the biggest mistake of his relatively short life.
"Years from now, Benjy," his older brother said outside the cinema. "You're going to be asked what the first film you saw at the cinema was … so, what's it going to be? The coolest movie in history, Star Wars, or some rubbish about an imaginary dragon?"
Nearly 40 years later, it strikes me as boringly coincidental that remakes of the two films at the centre of my baffling decision have both been released within the space of a year – with The Force Awakens prevailing 82-71 on Metacritic against Pete's Dragon (released Oct 13). Back in '78, A New Hope may have brought it home 92-46, but lost out among the under-5s.
Really spoiling US
What a lot of people might not know is that the original Star Wars was released in the US fully seven month before Europe. And it's still true today that most conversations about release dates end with a grimace or guffaw about how long we have to wait in Denmark.
But this isn't strictly true, or at least it's not this issue. Primarily due to the forthcoming US holidays in November, no fewer than four films are coming out in Denmark before the US: Trolls (Oct 13), A Monster Calls (Oct 27), Doctor Strange (Oct 27) and the Oasis documentary Supersonic (Oct 13). So that's three films aimed at kids and one about them.
Half-term oases
Trolls is an animated film based on dolls created by Danish company Dam Things (see history feature on page 16) including the voices of Zooey Deschanel, Justin Timberlake, Anna Kendrick, James Corden, John Cleese and Russell Brand. DreamWorks doesn't mind whether it's good or not, just as long as it sells a lot of merchandise. But according to our reviewer, it's a safe bet for the kids (see cphpost.dk).
READ MORE: Film review of 'Trolls'
The consensus among reviewers at various festivals is A Monster Calls (74) is a faithful adaptation of Patrick Ness's popular children's novel that has resonated with all ages. In his Aslan role in the Narnia films, Liam Neeson demonstrated that he does beasts as well as angry action men in their 60s, and he lends the monster role the necessary gravitas and an otherwise unshowy cast a star name.
Marvel superhero film Doctor Strange has got an abundance of them: Benedict Cumberbatch in the title role along with able support from Chiwetel Ejiofor, Rachel McAdams, Tilda Swinton and Denmark's favourite son Mads Mikkelsen. For fans of the character, this origins story might be a little straight-laced, but there is talk of more 'astro-trip' content in a sequel, if it gets that far, for which the biggest variable will be whether Cumberbatch signs on for another.
Oasis are talking about a sequel of sorts – what's commonly referred to as a reunion in the music industry – or at least Liam Gallagher is following his contribution to the biodoc Supersonic, which he described as the "therapy he's never had". But will brother Noel roll with it or continue to look back in anger?
Autism, good and bad
Rolling with the punches of late is Ben Affleck – since Argo in 2012, Gone Girl has been his only success. So will The Accountant (Oct 20) address this slump? It's hard to see given he plays a maths savant working for the mob. Makes you wonder if the card-counting scenes in Rainman would be rewritten in a similar vein for today's audiences?
A much better bet for an emotional payoff is the autism-themed doc Life Animated (Oct 20, 75), which tells the story of a boy who learns to communicate by repeating lines from Disney films.
Also already released overseas are Sunset Song (Oct 13, 72), a solid coming-of-age drama set in early 20th century Scotland starring Peter Mullan, and Requiem for the American Dream (Oct 20, 8.2 on IMDB), in which famous US intellectual Noam Chomsky chews over inequality and the death of the middle classes.
Competing Toms
Hollywood inequality springs to mind as we look forward to the appearance of its two biggest stars, or at least its two biggest Toms. Cruise, now 54, continues to take the biggest parts written for men in their 40s, and Hanks, 60, likewise has his pick of the plumb 50-something roles.
Jack Reacher 2: Never go Back reconfirms that Cruise has given up on Uncle Oscar for good and will only ever do sequels, sci-fi or sci-fi sequels. While Hanks returns to his role as Dr Robert Langdom in Da Vinci Code sequel Inferno, this time with Felicity Jones and Borgen PM Sidse Babett Knudsen (currently in Westworld on HBO) in tow.
The second Noel
Elsewhere, the two-week film festival CPH PIX starts on October 27. Among the films we're looking forward to seeing are British literary world drama Genius (Nov 10), David Lynch: The Art Life (Nov 5 & 6) and the worldwide premiere of Bakerman (Oct 29 & Nov 2), a film made by our former columnist David Noel Bourke.
Cinemateket will of course be showing plenty of films as part of the festival, and also plenty before as part of its Film Noir season – which includes Charles Laughton's only film, The Night of the Hunter (Oct 6, 21:30 & Oct 22, 12:30), and Fritz Lang's The Big Heat (Oct 16, 12:30).