Business & Education
Adolf Hitler behind the largest bicycle theft in Danish history
---
This article is more than 7 years old.
Fuel shortages cost Danes their rides during WWII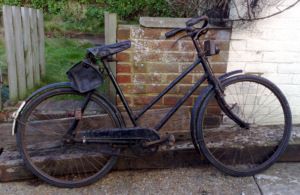 When Adolf Hitler confiscated thousands of Danish bikes during the Occupation in 1944, it was the largest case of bicycle theft in this country's history, reports videnskab.dk.
READ MORE: Copenhagen cops bust up international bike theft ring
The confiscations arose from an order given in Germany by the Wehrmacht High Command, demanding that all bicycles in Italy, the Netherlands and Denmark should be confiscated. The bikes were needed due to fuel shortages and the need to move members of the German military.
The Führer takes a ride
The order was given by the high command, but archival material revealed that Hitler himself ultimately signed off on the order.
"He used hardly more than a few minutes on it, but you can see archival material that he approved," said John T Lauridsen, a researcher at the Royal Library.
The original order was that every bike in Denmark be confiscated, but Werner Best, the civilian administrator of Denmark during the Occupation, decided that would be too disruptive and that only new bikes and bikes already for sale be taken.
"Hitler's secret weapon"
On 26 October 1944, the Germans started seizing the bicycles to the great frustration of the Danish population.
READ MORE: The innkeeper, his family and their inspiring resistance
Officially, the bikes were 'acquired' by the Germans, and owners could seek compensation from the state, but no-one ever received a kroner for a single bike seized.
Underground newspapers published in Denmark during the Occupation ridiculed the Germans and called the Danish bicycles "Hitler's secret weapon".