News
Denmark among most empathetic nations in the world
---
This article is more than 7 years old.
Danes the only representative of Europe in the top 10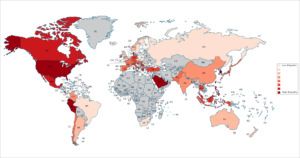 For the first time ever, researchers have compiled a system that ranks nations by how empathetic their citizens are, and Denmark is the only European nation in the top 10, coming in fourth overall.
Ecuador finished top of the rankings, followed by Saudi Arabia, Peru, Denmark and the United Arab Emirates. South Korea, the US, Taiwan, Costa Rica and Kuwait completed the top 10.
"These findings reveal that empathy is situated within a broader nomological network of other psychological characteristics, emotional expression and experiences, and prosocial behaviour across cultures," the study stated in its abstract.
"The current study expands our understanding of how psychological characteristics vary across cultures and how these characteristics can manifest in broader national indicators of prosocial behaviour."
READ MORE: Good colleagues most important for working Danes
Eastern promise?
The study (abstract here in English), was composed by scientists from three US universities (Michigan State University, University of Chicago and Indiana University) and collected data from 104,365 adults in 63 different countries.
The study also revealed that countries that displayed high levels of empathy also "had higher levels of collectivism, agreeableness, conscientiousness, self-esteem, emotionality, subjective well-being, and prosocial behaviour."
Eastern European countries dominated the low end of the empathy rankings with seven nations in the bottom ten. Lithuania finishing rock bottom, followed by Venezuela, Estonia, Poland, and Bulgaria.
South Africa was the only country in Africa that was ranked as countries with small survey sample sizes were excluded.
The results have been published in the Journal of Cross-Cultural Psychology.