General
Performance Review: Beethoven Teaterkoncert
---
This article is more than 7 years old.
Who knew Beethoven's work could be so well translated into modern music?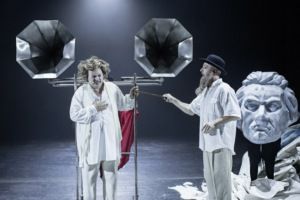 The theatre concert 'Beethoven Teaterkoncert' is a tremendous show that delivers a surprisingly multi-layered, engrossing, and musically blissful experience.
'Theatre concert' is a relatively new genre. A mix of music show and theatre acting with no actual story driving it forward, the first of its kind was presented in 1994 in Copenhagen, and the creators of 'Beethoven Teaterkoncert'  have produced several over the last two decades, including the popular Beatles compilation 'Come Together'.
The whole setting is delightfully absurd: Beethoven (Bjørn Fjæstad) is accompanied by Nelson Mandela (Claus Hempler) and his wife Winnie Mandela (Lotte Andersen), the famous English painter Turner (Jimmy Jørgensen), Charles Darwin (Svein Solenes) and his daughter (Anna Bibovski/ Kirstine Rutzou Rosenkilde), and finally, Beethoven's own beloved, Josephine  Brunsvik (Mareike Wang) in a universe that transcends time and space.
Light, dark, light
The opening scenes are light in mood and silly in setting, but soon after the themes get darker. A coherent narrative starts to take shape, as you see each character battling their own demons, all united by one of the most basic human conditions: suffering.
The second act mirrors the first, and we are presented with a gradual ascent into redemption, hope and joy. All's well that ends well. or perhaps a little too well, as you may be left feeling that the final moments of the show don't carry the same emotional gravitas of what came before.
Will please all-comers
But it's a trivial blemish on an otherwise pristine act. The songs are beautiful and masterfully crafted from Beethoven's extensive body of work. Sonatas turned pop songs, Symphonies turned ballads, lieds and operas turned into coquettish acts of tongue-twisting lyrics and spiralling dancing and flying.
The surprises never seem to end, and even if you don't happen to be a Beethoven aficionado, you are sure to appreciate the music. Those who are indeed acquainted with the composer's work will derive joy from recognising melodies in such unexpected arrangements. Who knew Beethoven's work could be so well translated into modern music?
High quality throughout
The actors do a terrific job of bringing their characters to life and singing their hearts and souls out from start to finish. Their lyricism gives way to truly touching experiences, both auditive and visual.
The staging and costumes are also incredibly imaginative, with robust and daring aesthetics that perfectly complement the narrative.
Beethoven Teaterkoncert is an enriching, beautiful, and memorable experience. It's a show that deserves to be watched again and again.