News
DF leadership aware of Messerschmidt's misuse of EU funds for a year – report
---
This article is more than 7 years old.
Tabloid Ekstra Bladet widening its search for guilty parties in its 'Messer-shit' series of stories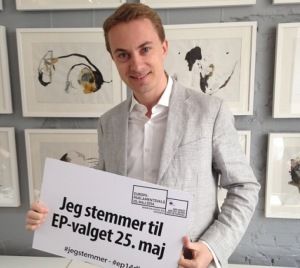 Ekstra Bladet has obtained and published two emails that appear to prove that Kristian Thulesen Dahl, the head of the right-wing party Dansk Folkeparti, was warned about Morten Messerschmidt's misuse of EU funds on 10 October 2015.
The warning came from Rikke Karlsson, who earlier this year reported Messerschmidt to the police for identity theft, shortly prior to her resignation from the party.
On Tuesday, it was announced that Messerschmidt is stepping down from the party's senior leadership team.
"We have decided that Morten Messerschmidt will resign from our party's leadership – the co-ordination committee, as we call it," stated Dahl.
"And then those things, which now must take place in the European Parliament, can run their course."
Dahl is yet to comment on the tabloid's allegations.
READ MORE: Messerschmidt accused of identity theft
Not fraud but 'sloppiness'
In August, Messerschmidt resigned as leader of the DF delegation in the EU Parliament after he was found guilty of the misuse of EU funds.
It was commented on at the time that when he was re-elected in 2014 his campaign promised to combat EU fraud.
The DF politician has recently been reported to the EU's anti-fraud unit OLAF with new allegations, and his former colleague Rikke Karlsson has accused him of identity theft.
Thulesen has admitted he knew the EU funds were spent on financing DF's summer camps in 2014 and 2015, but rejects any responsibility.
"I completely assumed it was within the EU Parliament's rules, because that's how it should have been," Thulesen told DR.
"I have no reason to believe it was deliberate cheating, but a case of sloppiness."
READ MORE: Messerschmidt asked to pay back 120,700 kroner for rented boat
DF to pay back
According to Politiken, Messerschmidt misused 500,000 kroner through the organisation MELD, which he chaired.
DF has agreed to pay some of the money back. The exact amount is not yet clear, but it will not exceed 300,000 kroner, according to Anders Vistisen, the new leader of the DF delegation in the EU Parliament.
Meanwhile, another Ekstra Bladet report in their 'Messer-shit' series claims that MELD paid for a trip for Peter Christensen, the defence minister, and his girlfriend to Strasbourg in 2013. Venstre and its leader, PM Lars Løkke Rasmussen, have so far declined to comment.