News
Small shops quitting Copenhagen's main pedestrian street
---
This article is more than 7 years old.
Garbage, noise and fast food joints chasing away smaller merchants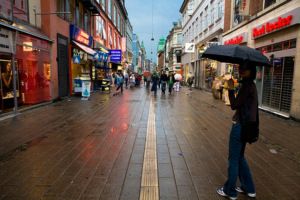 Noise, garbage and a boom in souvenir shops and fast food restaurants have led to increasing numbers of smaller shops and specialty merchants abandoning Strøget in Copenhagen.
A classic pipe shop and the fashion store Company Original are among the latest to leave. Arne Vejrum, the owner of Randers Handsker, a glove shop that has been on the street since 1956, said the state of the street is the reason shops are leaving.
"The street is run-down, poorly maintained and sometimes foul," Vejrum told DR Nyheder. "There are problems with the homeless, and the facades of all of the burger restaurants are not exactly enticing visitors."
Not lovin' it
The problem is particularly pronounced along the first stretch of Strøget beginning at City Hall Square.
"I miss the old classic environment with small and special shops," said Carl Christian Ebbesen, Copenhagen's cultural and leisure mayor.
"It is a pity that only big brand stores are located on Strøget now."
Ebbesen said that a resurfacing and free parking could help turn things around. He plans to discuss the problem with the city's municipal council.