News
A new urn-er for the ashes that are the Danish post industry
---
This article is more than 7 years old.
Don't open that box, little Jens! It's grandma!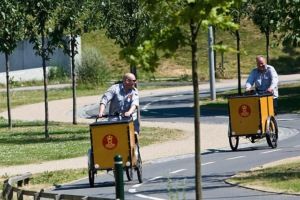 Urns containing the ashes of loved ones are increasingly being transported by the postman from the crematorium to the cemetery, rather than in a hearse or by relatives.
According to Begravelsesforeningen Begravelse, the Danish funeral association, about 20 out of 1,700 urns are sent by mail every year – about one or two each month.
"I would guess that our crematorium here in Hjørring sends about one or two each month on a national basis," Allan Vest, the head of the Danish Crematorium Association, told Kristeligt Dagblad. "We send the urns to faraway places in Denmark and overseas."
READ MORE: More Danes want to be buried ecologically
Svend Andersen, a professor of theology at the Institute for Culture and Society at Aarhus University and former vice chairman of the ethics council Det Etiske Råd, said it was disrespectful to send someone's final remains via Postman Per.
"We have ethical norms that say we owe any human being respect, and that basic idea is also transferred to the deceased," he said.
"Human dignity does not disappear because they die, and when we handle their urn as a postal package, it overrides our expectation of respectful treatment of the remains of a dead person."
A truly dead letter office
Jørgen Carlsen, a member of the Det Etiske Råd, agrees.
"You would not send a coffin with a carrier," he said. "It offends me that anyone could consider it a mere package. And what if it gets lost? It borders on the obscene."
The crematorium association rejects the criticism.
"It is costly for relatives from Copenhagen to drive to Hjørring to retrieve an urn," said Allan Vest.
"In principle, it is the same whether I send them from here to Vietnam. It is within the law, and we assume there has been an agreement made between the relatives and the undertaker."