News
Danish amusement park closes ride in wake of Australian tragedy
---
This article is more than 7 years old.
BonBon-Land shuts down popular 'Beaver Rafting' as a precaution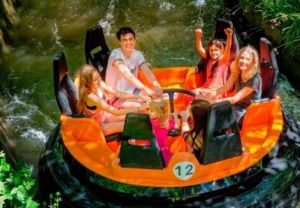 With less than two days remaining of its 2016 season, the Danish amusement park BonBon-Land will close one of its rides following the tragedy that left four people dead at the Dreamworld amusement park in Australia.
The south Zealand amusement park said it will shut down its 'Beaver Rafting' ride, which is similar to the one that malfunctioned in Australia, until the investigation into the accident has been completed.
According to BonBon-Land, its 'Beaver Rafting' ride, on which six-person boats are propelled forward on a conveyor belt, is the Nordic's longest rafting ride.
"At BonBon-Land, safety is always our top priority and we have therefore decided to close Beaver Rafting on Saturday, which is our last day open in 2016," the park wrote on Facebook.
"This is purely a proactive action in order to be 100 percent sure that this can't happen with us. We adhere to all safety demands."
READ MORE: Danish amusement park among top in Europe
Tragedy Down Under
On Tuesday, four people were thrown into the water as two boats collided on the Thunder River Rapids ride at Dreamworld in Queensland.
Two adults drowned after being trapped under one of the boats, while two other adults were sucked under the conveyor belt under the water.
Two children were also on the boat at the time of the accident, but survived.