News
Just in time for Halloween: Danish cadaver carts selling worldwide
---
This article is more than 7 years old.
Pig farmer has developed an easier way to haul the dead … pigs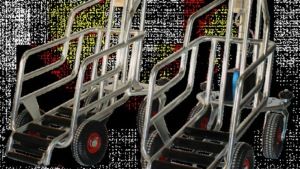 Palle Brock, a Danish pig farmer from Djursland in Jutland, operates a one-man company with an unusual product: A cart for hauling dead pigs out of stables.
Brock's useful, if somewhat macabre product, is a big hit in both Europe and Japan. The cadaver carts come in handy, especially in stables where space is too limited to squeeze in a lot of human help to lift the dead animals.
"We saw that our sows were larger and heavier and we had serious problems getting them out when they had died," Brock told DR Nyheder.
Swine rickshaw
The cart works by placing it behind the dead animal and is equipped with a rope to be attached to a hind leg. The animal is then pulled onto the cart with a hand-operated winch.
"Even a small woman can lift out a sow weighing 200 to 250 kilos with no problem," said Brock.