News
Pope hopes to unify Catholics and Protestants with historic Malmö visit
---
This article is more than 7 years old.
It's the first time since 1989 that the head of the Catholic Church visits Scandinavia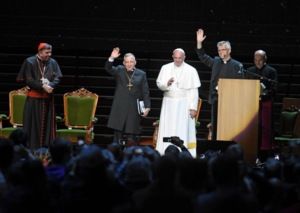 With the visit of Pope Francis to Malmö yesterday, it is the first time in history that Catholics and Protestants were unified in officially marking the breach between the two big branches of Christianity.
The Pope joined representatives from the Protestant Church to mark the anniversary of the reformation that Martin Luther instigated in protest against the Catholic Church nearly five centuries ago.
And when the Pope descended from his Alitalia flight at Sturup Airport, it was also the first time since 1989 that a Pope visited Scandinavia.
READ MORE: Pope Francis coming to Malmö
500 years in 2017
Sweden's prime minister, Stefan Löfven, was among the dignitaries on hand to welcome the Pope to Sweden.
"Christian unity is a priority, because we realise that much more unites us than separates us," the Pope wrote on Twitter.
"Let us ask the Lord that his word, source of light and life, may help Christians be ever more united."
Next year will mark 500 years since the Protestant Reformation took place in 1517.