News
UN employees in Copenhagen to get tips about safe cycling
---
This article is more than 7 years old.
Some 1,800 employees getting opportunity to learn better cycling traffic safety around trucks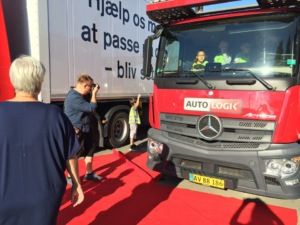 The Association for the Danish road transport of goods (ITD) nation-wide traffic safety campaign 'Lastbilkaravanen' ('Truck Caravan') and the cyclist federation Cyklistforbundet are scheduled to make a pit-stop at the UN City in Copenhagen tomorrow.
The aim of the initiative is to provide international employees at the UN a better understanding of traffic safety and navigating the Danish cycling culture.
"Sustainability is the cornerstone of the UN's new global goals, so we are doing things to urge the almost 1,800 employees in UN City to embrace sustainable behaviour as part of their daily endeavours," said Grete Faremo, the executive director for UNOPS.
"For instance, we have about 650 bicycle parking spaces at UN City to help encourage our colleagues to do as the Copenhageners do and cycle to work. There are 104 nationalities in UN City and consequently there is great difference in how much experience they have cycling in a major city like Copenhagen."
READ MORE: Cycling in Copenhagen: 10 most dangerous intersections
Keep on truckin'
The UN employees will be given the opportunity to climb into the trucks and see how a truck driver views the road around him.
In front of the truck's right front wheel there will be long red circles painted to show the critical zones that indicate the blind spots of the truck drivers.
"The unique Danish cycling culture is built on a foundation of high traffic safety and a well-developed infrastructure, something that the international community has expressed great interest in," said Klaus Bondam, the head of Cyklistforbundet.
"And that's also down to a well-oiled co-operation between organisations, companies, authorities and politicians concerning cycling and traffic safety, which is something I look forward to sharing with the UN employees."
The initiative kicks off tomorrow morning at 08:00 in front of the UN City in Nordhavn.