Things to do
November Kids: Humbugs don't come sweeter
---
This article is more than 7 years old.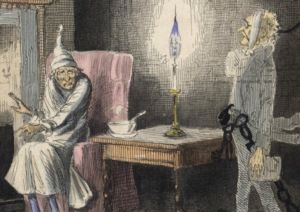 A Christmas Carol
Nov 13-Dec 18, Mon-Fri 09:30 & 11:30, Sat & Sun 13:00 & 15:00; Open Air Museum, Kongens Lyngby; 40-165kr; natmus.dk
It's surprising so few Danes are familiar with the Dickensian classic A Christmas Carol, but all that is changing thanks to this annual production by the Bernhard Olsen Teater.
Suitable for ages six and above, this version has trimmed off the dark elements of the original to present a shorter version ideal for the little ones.
For those familiar with the story but challenged by the language, it should be a breeze keeping up.
So don't be a miser and initiate your bilingual offspring into the world of Scrooge.
Humbug to one and all!
Monet's Garden
ends Dec 4, Tue-Fri 11:00-18:00; Ordrupgaard, Vilvordevej 110, Charlottenlund; adults: 110kr, kids: free adm; ordrupgaard.dk; ages 3-10
Let all your senses explore the world Monet created through his paintings. As a part of their Monet: Beyond Impressionism exhibition, Ordrupgaard Museum has recreated Monet's renowned garden in Giverny, complete with a water-lily pond and Japanese bridge.
Kids can immerse themselves in a landscape like the one Monet was inspired by. Surrounded by flowers and willow tree branches made of climbing rope, they can jump, crawl and swing. A station well-stocked with crepe paper and pipe cleaners will also be provided for them to make their own flowers. (SK)
Mum & baby yoga
Five-week course Nov 15-Dec 13, Tue 11:45-13:15; Studio 1, Allegade 25, Cph F; 625kr
Shakti Yoga Copenhagen is running a yoga course in English for mothers and babies dedicated to embracing your inner-calm and bonding with your little one. (KL)
Sunday narratives
Every Sun, 11:00-12:00; Besttellers cafe, Krusågade 25-27, Cph V; 40-110kr, billetto.dk
Storytelling company BestTellers is the place to be for quality entertainment. Bring the family with you and let your imagination embrace the adventure. Sunday's slappe af is guaranteed! (KL)
Night at the museum
Sat 16:30 during Nov; Zoological Museum, Universitetsparken 15, Cph Ø; 150kr, billetto.dk
Enjoy a unique family tour of the museum after closing time. Catch a glimpse of the museum's highlights and feel like Ben Stiller in Night at the Museum. (KL)
Children's workshop
Sat-Sun 11:30-16:30; National Gallery of Denmark, Sølvgade 48-50, Cph K; smk.dk
This is a place where young creative souls can get inspired and explore their artistic potential with the help of paintbrushes, pencils, paper, clay and glue guns. (KL)
Nytorv Xmas Market
 Nov 18-Dec 22, Gammeltorv, Cph K
Enjoy Danish favourites such as gløgg and æbleskiver and browse through winter clothing, paper arts and wooden toys. Go easy on the pastries, chocolates and Glühwein, or Santa won't let you sit on his knee.